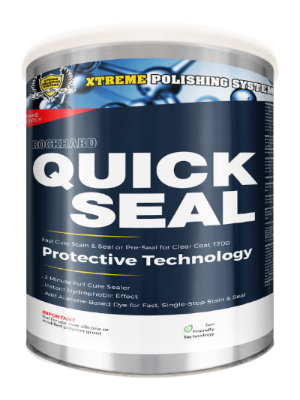 Rockhard Quick Seal
Pickup available at Warehouse
Usually ready in 24 hours
Warehouse
Pickup available, usually ready in 24 hours
2200 NW 32nd Street
700
Pompano Beach FL 33069
United States
+18779585264
Rockhard Quick Seal is a fast-drying, solvent-based, water-repellent sealer designed to enhance surfaces including concrete, stone, and masonry. This protective sealing agent shields your surfaces from nature's destructive forces to provide a long-lasting barrier that exhibits superior resistance to water, mold, airborne dust, dirt, alkali, freeze/thaw damage, and spills. You can also stain and seal in one step by adding acetone-based dyes into the sealer.
Features & Benefits:
Breathable
Very fast drying
Stain and water repellant
Compatible with most natural and artificial stone, masonry, and concrete
Penetrates the surface of the substrate
Enhances and deepens natural colors of substrate
Repel moisture, stains, and mold from within the substrate
Long-lasting, easy to clean
Reduced maintenance costs
Protects most natural and artificial stone, concrete, and masonry products against moisture, stains, dirt, and mold
Common uses include the protection of substrates against moisture, stains, dirt, and mold. Use for surface enhancement and is suitable for most natural and artificial stone, concrete, and masonry products. This sealer is also compatible to use underneath Rockhard Clear Coat T200.
SIZE: 1 Gallon Cans

MATERIAL: Clear liquid. Add a concrete stain to change colors.

COVERAGE: Coverage will vary depending on the porosity and texture of the substrate and applicator used. 150-600 SF/gal (reference the product Tech Data Sheet for additional coverage rates)

STORAGE: 12 months of shelf life expectancy for unopened containers. Store on pallets or industrial shelves and KEEP AWAY from extreme heat and freezing conditions as well as moisture-rich environments. Store at temperatures between 50 °F and 80 °F (10 °C and 27 °C).

MIXING: Ready to use. There is no need for mixing or diluting.

SUITABILITY SAMPLE: Due to the condition of specific sites, always prepare an adequate number of test areas. Onsite sample approval is especially critical in substantial, heavy traffic situations, or custom gloss control and coloration.
SHOP CONTRACTOR DEALS
SAVE ON MACHINES, CONCRETE & EPOXY FLOOR COATINGS!
Xtreme Polishing Systems offers a wide range of materials for surface preparation, concrete floor grinding and polishing machines, decorative concrete, and epoxy resin supplies for all industrial, commercial and residential flooring needs. We provide a full product line of professional concrete and epoxy supplies, flooring equipment, and building materials for projects big and small.