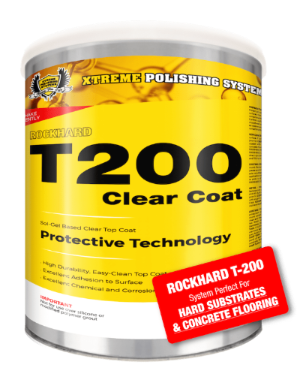 Rockhard Clear Coat T200
Pickup available at Warehouse
Usually ready in 24 hours
Warehouse
Pickup available, usually ready in 24 hours
2200 NW 32nd Street
700
Pompano Beach FL 33069
United States
+18779585264
Solvent-Based Clear Gel Topcoat System
Rockhard Clear Coat T200 Sealer for Concrete is a spray-down solvent and gel-based clear coating system. It is designed to protect concrete surfaces and other hard surfaces. It's a durable, resistant coating that prevents flaking and peeling. You can apply this clear coat system directly over Rockhard Quick Seal (tinted or un-tinted). This creates a comprehensive concrete protection system.
Rockhard Clear Coat Sealer for Concrete has superior qualities in terms of non-flexibility, making it an ideal solution for hard surfaces like metal and concrete. It forms a long-lasting protective barrier that offers superior UV and wear resistance for these surfaces.
This Sealer for Concrete provides surface resilience against mold, rust, mildew, moss, corrosion, moisture, chlorides, salt spray, acid rain, UV damage, oxidation, galvanic corrosion, animal and bird waste, gum, graffiti, and ice adhesion.
Applications include concrete floors, walls, structures, masonry pavers, unglazed tile, bricks, and cement blocks, as well as ferrous metals like stainless steel and galvanized steel, and non-ferrous metals including aluminum, copper, and bronze (whether raw, powder-coated, painted, or primed).
Coverage Rates
 

System

Sqft. Per Gal

Sqft. Per Kit

Topcoat
1-2 Coats @ 400-600 Sqft/Gal
400-600 Sqft/Kit
Metal

1-2 Coats @ 600-800 Sqft/Gal
600-800 Sqft/Kit
Polished Concrete

1-2 Coats @ 600-800 Sqft/Gal

(depends on surface porosity)

600-800 Sqft/Kit

Features and Benefits
Excellent UV resistance and protection
Superb abrasion and scratch resistance
Exceptional impact resistance
The finished application is virtually invisible
Reduces maintenance costs
Extends the life expectancy of the substrate
Superior resistance to rust, moisture, corrosion, salt spray, acid rain, oxidation
Resistant to wind drag, dirt build-up, ice buildup, and animal and bird waste damage
Applications
UV stable topcoat
Polished concrete floors
Sealed concrete
Masonry pavers
Unglazed tile
Ferrous metals
Non-ferrous metals
QUANTITY: 1 Gallon Cans

SUITABILITY SAMPLE: Due to the condition of specific sites, always prepare an adequate number of test areas. Onsite sample approval is especially critical in substantial, heavy traffic situations or custom gloss control and coloration.

MIXING: Ready to use. There is no need for mixing or diluting.

MATERIAL: Clear to slight amber to rose (depending on temperature and humidity levels). Always dries clear. Available in Gloss or Satin finish.

STORAGE: 12 months of shelf life expectancy for unopened containers. Store on pallets or industrial shelves and KEEP AWAY from extreme heat, freezing conditions, and moisture-rich environments. Store at temperatures between 50 °F and 80 °F (10 °C and 27 °C).

COVERAGE: Coverage rates may vary based on the porosity and the surface it's being applied to. The average coverage is 400-600 SF./ per Gal.

Recommended Spread Rate of 2 – 2.5 mils Wet and 0.7 – 0.75 mils Dry.
SHOP CONTRACTOR DEALS
SAVE ON MACHINES, CONCRETE & EPOXY FLOOR COATINGS!
Xtreme Polishing Systems offers a wide range of materials for surface preparation, concrete floor grinding and polishing machines, decorative concrete, and epoxy resin supplies for all industrial, commercial and residential flooring needs. We provide a full product line of professional concrete and epoxy supplies, flooring equipment, and building materials for projects big and small.