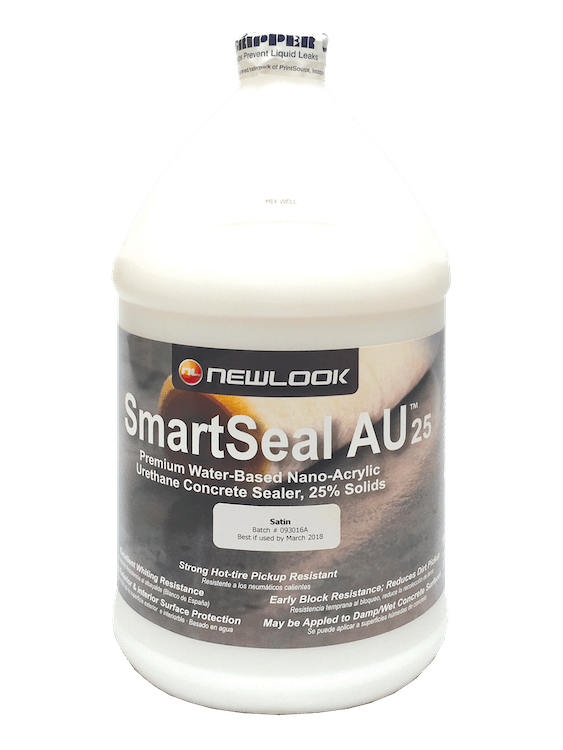 SmartSeal AU25 Concrete Sealer
Premium Water-Based Nano-Acrylic Urethane Concrete Sealer, 25% Solids
With NewLook's SmartSeal AU25, you can seal your concrete surfaces despite high traffic with a highly durable Nano-acrylic concrete sealer. The NewLook SmartSeal AU 25% solids water-based acrylic urethane concrete sealer dries quickly, provides excellent weatherproof protection against sun, rain, most acids, industrial chemicals, oil, and grease, and dries quickly.
Features & Benefits:
Water-based, nano-acrylic
Good exterior and interior surface protection
Excellent blush and early water resistance
May be applied to damp concrete surfaces
Good hot-tire pickup resistance
Early block resistance; reduces dirt pickup
Non-yellowing
Water-based, eco-friendly solution
UV-resistant; strong UV-blockers
Resistant to water, chemicals, and abrasion

In addition to being highly durable and resistant to abrasion, NewLook SmartSeal AU25 concrete sealant will protect your stained concrete flooring from excessive damage. Among other uses, NewLook SmartSeal AU25 is commonly applied to driveways, stamped concrete, and commercial or industrial flooring.
SHOP CONTRACTOR DEALS
SAVE ON MACHINES, CONCRETE & EPOXY FLOOR COATINGS!
Xtreme Polishing Systems offers a wide range of materials for surface preparation, concrete floor grinding and polishing machines, decorative concrete, and epoxy resin supplies for all industrial, commercial and residential flooring needs. We provide a full product line of professional concrete and epoxy supplies, flooring equipment, and building materials for projects big and small.