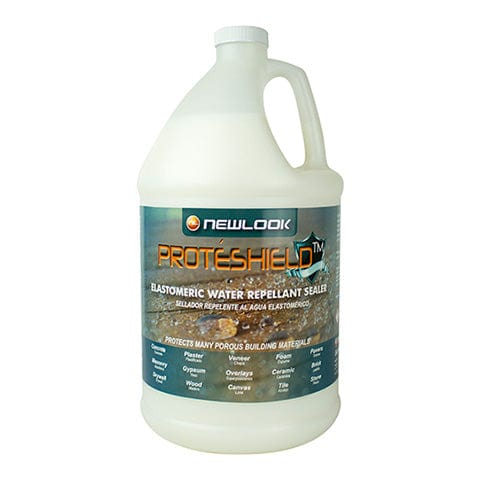 ProteShield Concrete Sealer
Water-Based Concrete Sealer
NewLook ProteShield Concrete Sealer is a water-based, inorganic elastomeric concrete waterproofing sealer designed to penetrate, seal and protect porous surfaces from water and other liquids.
NewLook ProteShield waterproofing concrete sealer prevents the penetration of contaminants that create mold, mildew, and pollution damage. It is a long-lasting protective solution designed for professional coating installers. Ideal for large commercial or residential applications.
Uses & Applications
Recommended for sealing, waterproofing, winterizing, and protecting most porous building materials such as concrete, pavers, concrete block, brick, precast concrete, plaster, drywall, GFRC, gypsum board, stone, tile, ceramics, foam, canvas, veneer, overlays, asphalt, wood, and most types of metal (copper, brass, steel, aluminum, gold, iron).
Large Flatwork Applications: Theme parks, city parks, parking lots, airports, roads and highways, bridge decks, piers, schools, helipads, tunnels, pipes, decks, walkways, and driveways.
Ideal Interior and Exterior Applications: Floors of hospitals, restaurants, offices, schools, commercial buildings, industrial plants, labs, manufacturing and fabrication facilities, warehouses, storage facilities and containers, residential living quarters, basement waterproofing, retail spaces, and grocery stores.
Not recommended for applying on existing vertical surfaces. It can be applied to tilt-up structures before they are assembled.
Protect Porous Concrete Surfaces from Moisture
Providing excellent durability, breathability, and temperature resistance, ProteShield Water-Based Concrete Sealer modified-polymer formula waterproofs, winterizes and protects surfaces against ultraviolet rays, ice, water, chlorinated water, saltwater, rain, acid rain, salts and other chlorides, rust, mold, fungus, insects, chemicals, oil, fuel, stains, and excessive temperatures
After cleaning interior and exterior surfaces of mold, mildew, pollution, sewage, oil, and wax buildup apply ProteShield concrete sealer. It is an excellent penetrating concrete sealer that will prevent the growth and penetration of these substances making cleaning and maintenance much easier.
Coverage rate for unsealed (concrete) surfaces is approximately 200 sq. ft. per gallon.
1 gallon covers approximately 200 sq. feet
5 gallons covers approximately 1000 sq. feet

How does ProtéShield Sealer Technology Work?
Excellent concrete waterproofing: Creates a BREATHABLE & impermeable water barrier for treated surfaces
Excellent temperature resistance to extreme temperatures from -65º F (-54º C) to 400º F (204º C)
Strong abrasion & chemical resistance: Very durable; will not yellow, crack, or delaminate.
Eco-friendly & VOC Compliant: Complies with V.O.C. content limits as required by current U.S. air pollution regulation and is classified as non-hazardous, and non-toxic.
Excellent elasticity (up to 400%) Easier surface cleanup and maintenance. No seasonal re-coats
Non flammable and non combustible
Prevents treated surface from freeze thaw, cracking and spalling commonly caused by water intrusion
SHOP CONTRACTOR DEALS
SAVE ON MACHINES, CONCRETE & EPOXY FLOOR COATINGS!
Xtreme Polishing Systems offers a wide range of materials for surface preparation, concrete floor grinding and polishing machines, decorative concrete, and epoxy resin supplies for all industrial, commercial and residential flooring needs. We provide a full product line of professional concrete and epoxy supplies, flooring equipment, and building materials for projects big and small.