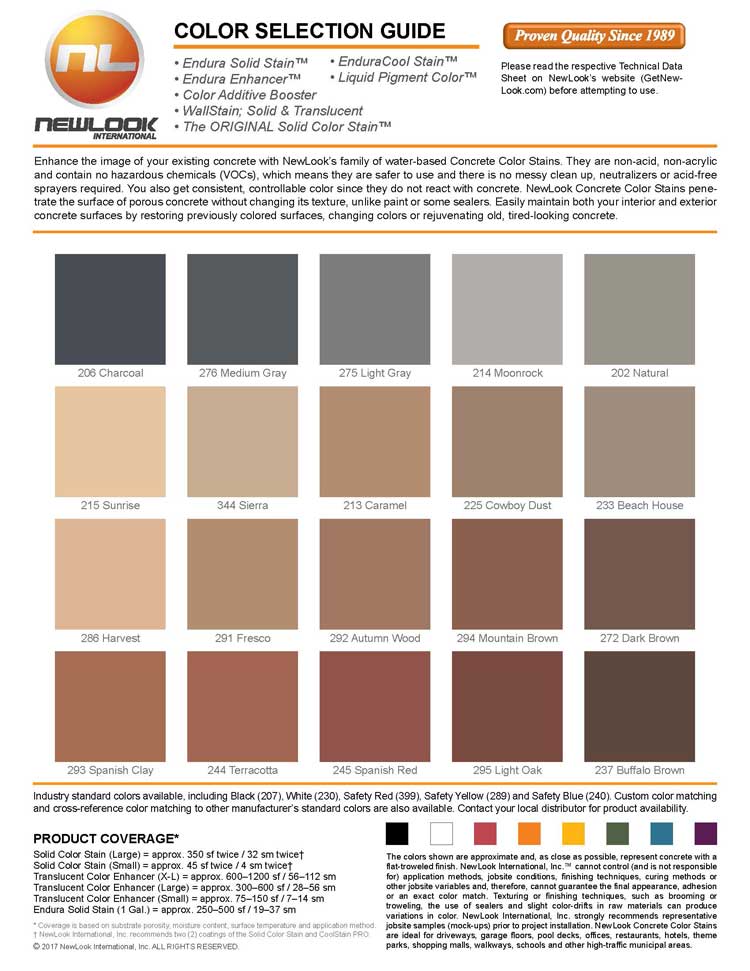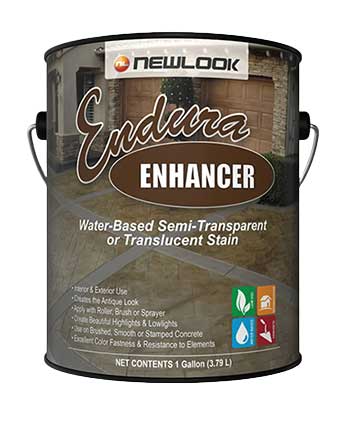 Endura Enhancer Concrete Stain
Translucent Concrete Stain Enhancer
NewLook Endura Enhancer Concrete Stain provides a tough, durable stain for applications such as patios, driveways, basements, walkways, pavers, blocks, and stucco walls. Got worn, faded exposed aggregate? This is the best solution on the market for restoring exposed aggregate! The water-based, translucent formula creates a vibrant, yet natural-looking color tint that refreshes the exposed aggregate surface while still allowing the aggregate tones to show through the translucent tint. Endura Enhancer Concrete Stain is a single component, a semi-transparent, translucent concrete stain that is highly durable and easy to use.

Translucent Endura Enhancer Concrete Stain refreshes your worn, stamped, or smooth concrete to give it a two-toned finish. Endura Semi-Transparent Enhancer Concrete Stain works similarly to both the Designer Series Enhancer and Translucent Enhancer but it comes ready to use as a single component concrete stain. Endura Semi-Transparent Enhancer is less opaque than Endura Solid Stain.

Features & Benefits

The translucent finish allows (solid) base color or intended discolorations to show through
The water-based stain formula has no VOCs
A non-reactive, reliable formula
Use to touch up or fix decorative concrete stain mistakes
Endura Semi-Transparent Enhancer Concrete Stain can be used to create a layered effect by either putting them on top of each other, on top of Endura Solid Concrete Stain, or as multiple layers on top of bare concrete. A very versatile concrete stain that can be used for both exterior and interior concrete.
Expert Tip: Use a darker Enhancer color over a lighter base color to create color contrast when antiquing stamped concrete.
Common Applications for Endura Enhancer Concrete Stain are to restore, enhance and revitalize exposed aggregate, stamp antique concrete with a two-toned, old world finish, translucent finish over the Endura Solid Concrete Stain, touch up and fix failed concrete stain jobs, enhance stone, brick, stucco, and other porous surfaces, and may be used on raw concrete.
Coverage rate: covers approximately 300-400 sq ft. per gallon.
SHOP CONTRACTOR DEALS
SAVE ON MACHINES, CONCRETE & EPOXY FLOOR COATINGS!
Xtreme Polishing Systems offers a wide range of materials for surface preparation, concrete floor grinding and polishing machines, decorative concrete, and epoxy resin supplies for all industrial, commercial and residential flooring needs. We provide a full product line of professional concrete and epoxy supplies, flooring equipment, and building materials for projects big and small.