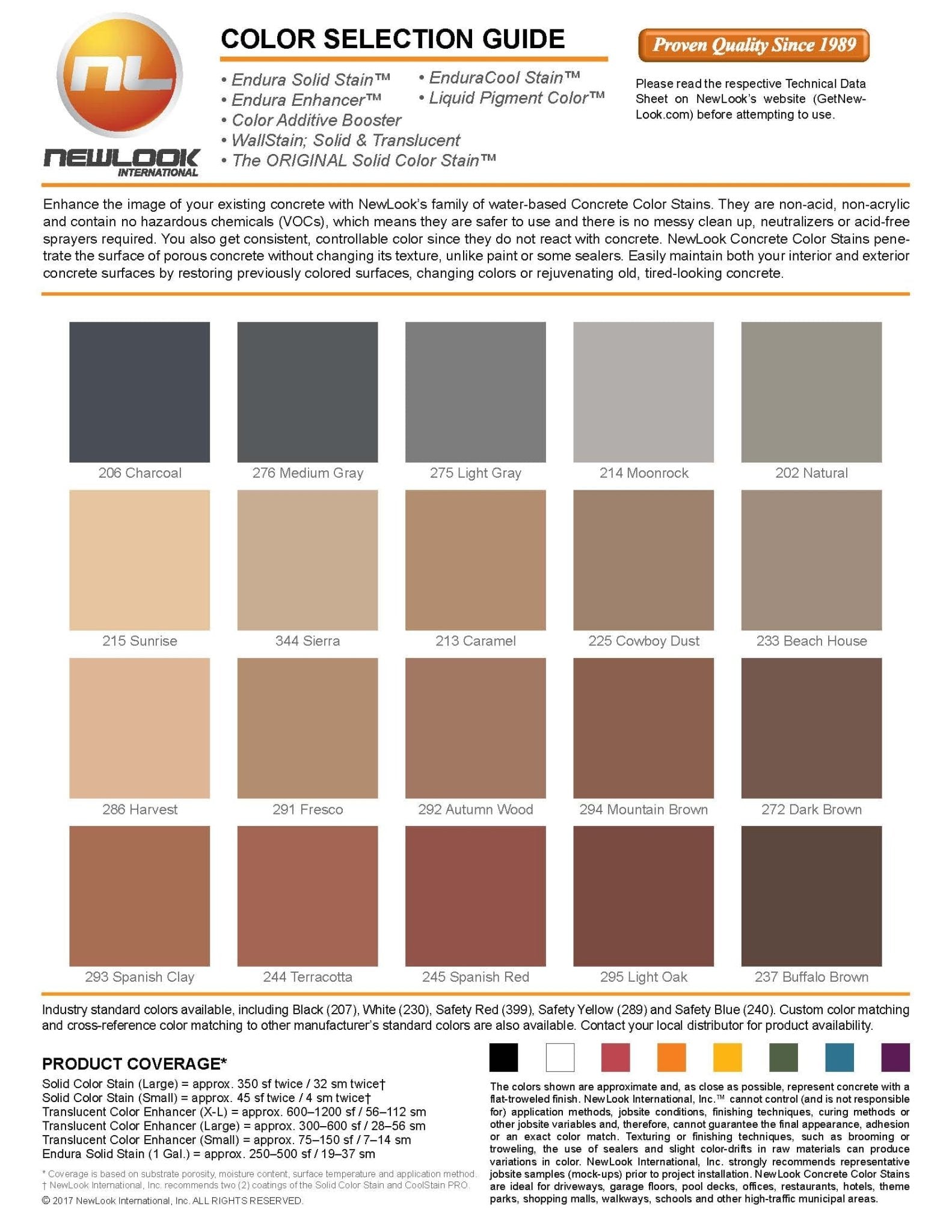 Endura Solid Color Concrete Stain
Decorative Concrete Stain
Restore faded concrete colors or stain your concrete with NewLook Solid Color Concrete Stain, a premium water-based decorative concrete stain made especially for use with existing, unsealed, interior, or exterior concrete surfaces. This concrete stain is an advanced polymer-modified formula that penetrates the surface of porous concrete (as deep as the surface pores) and forms an opaque (solid), breathable finish that typically requires no sealer.
NewLook Endura Solid Color Concrete Stain can be used to restore previously colored surfaces or to rejuvenate old, tired-looking concrete by completely covering discolorations or stains. It can be used on concrete flat-work, vertical surfaces, concrete blocks, pavers, imprinted concrete, exposed aggregate, and many other cementitious surfaces. It can also be used with sandblasting stencils. It is perfect for use over micro-toppings and overlays.
Features & Benefits
Low Build Material
High-Performance Single Component Stain
Appears very natural upon application
Ready to Use Premium Contractor Grade
Performance-enhancing additives that increase color fastness & resistance to the elements
Endura Stain Solid Color Concrete Stain is contractor grade yet consumer-friendly, single component concrete stain that is highly durable and easy to use. Developed to stain concrete, restore faded concrete, or maintain concrete, Endura Stain is affordable while being premium in quality & performance.
Restore Concrete & Decorative Concrete Stains
Creating beautiful concrete means using amazing decorative concrete restoration products, such as the NewLook Endura Solid Color Concrete Stain (image). NewLook is known for its innovative concrete stains used to make ugly concrete look brand spanking new! Endura Solid Stain is highly durable and easy to use single component concrete stains.
NewLook Endura Concrete Stain may be used on a variety of substrates, including concrete, masonry, pavers, brick, and stucco. Not recommended for non-porous substrates, e.g. metal, porcelain, glass, fiberglass. Common applications are driveways, walkways, sidewalks, patios, basement floors, pool decks, hotel lobbies, theme parks, and other large areas of concrete.
1 Gallon covers approximately 250 square feet twice. (2 coats for solid coverage)

SHOP CONTRACTOR DEALS
SAVE ON MACHINES, CONCRETE & EPOXY FLOOR COATINGS!
Xtreme Polishing Systems offers a wide range of materials for surface preparation, concrete floor grinding and polishing machines, decorative concrete, and epoxy resin supplies for all industrial, commercial and residential flooring needs. We provide a full product line of professional concrete and epoxy supplies, flooring equipment, and building materials for projects big and small.