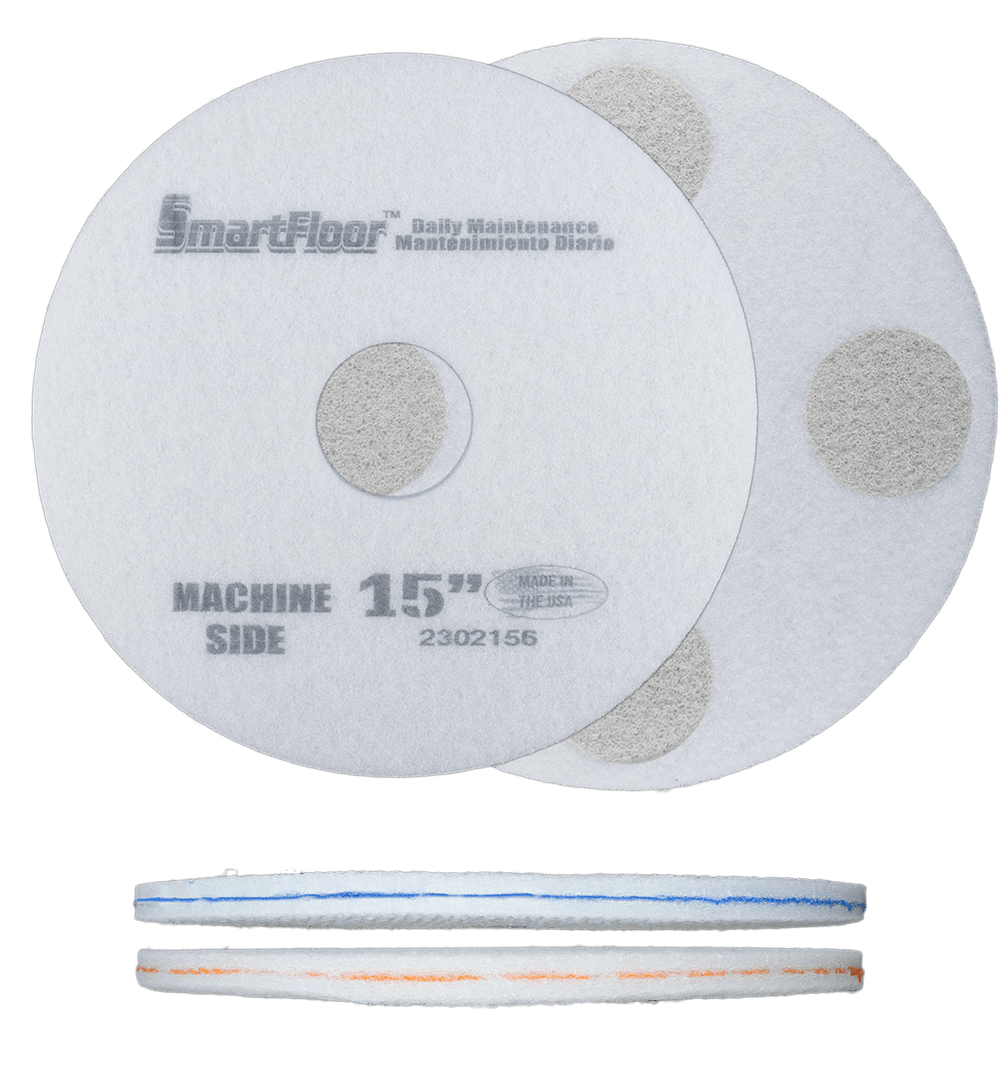 SmartFloor Maintenance Pad
Pad Types:
Daily Maintenance Pad
Sustainable Concrete Floor Systems
SmartFloor Maintenance Pads are engineered to provide the end user with a highly aesthetic polished concrete floor and an easy and economical way to maintain it utilizing standard janitorial equipment. Daily Maintenance Pads (Blue) are used for daily maintenance, while Restoration Pads (Orange) are used to restore lightly worn floors to their sustainable aesthetics. Designed with composite resin abrasives, SmartFloorTM Maintenance System pads maintain highly refined floors without removing stock, and repair etches and stains.
Features and Benefits
Improved appearance of your floors
Increased lifespan of your floors
Reduced labor and material costs
Improved indoor air quality
Safe and sustainable cleaning process
Designed for use on walk-behind or ride-on auto-scrubbers
Innovative composite resin abrasive technology
Made in the USA
Easy to use color-coded pad system allowing simple swapping in/out of desired pads
Properly maintaining your concrete floors can help you extend their lifespan and durability and keep them looking spotless. Get concrete floors in pristine condition with Ameripolish's SmartFloor Maintenance System. The appearance and longevity of the floors in your building are essential factors to consider as a building owner or contractor. Experience a difference like never before when you use the Ameripolish SmartFloor Maintenance System! Xtreme Clean Concrete Cleaner is recommended for this concrete floor system.
SHOP CONTRACTOR DEALS
SAVE ON MACHINES, CONCRETE & EPOXY FLOOR COATINGS!
Xtreme Polishing Systems offers a wide range of materials for surface preparation, concrete floor grinding and polishing machines, decorative concrete, and epoxy resin supplies for all industrial, commercial and residential flooring needs. We provide a full product line of professional concrete and epoxy supplies, flooring equipment, and building materials for projects big and small.