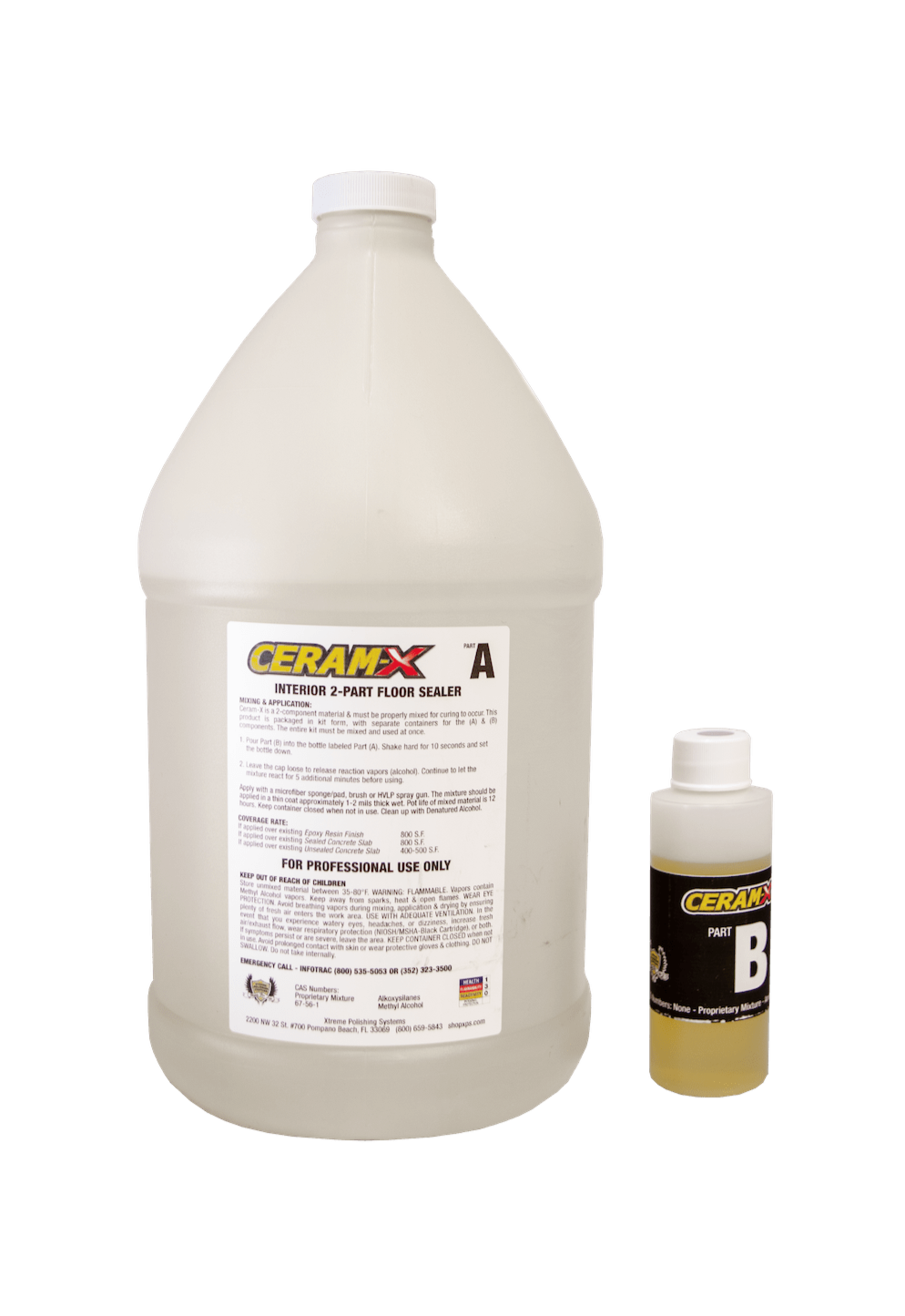 Concrete Sealant - Ceram-X Sealer
Pickup available at Warehouse
Usually ready in 24 hours
Concrete Sealant - Ceram-X Sealer
Warehouse
Pickup available, usually ready in 24 hours
2200 NW 32nd Street
700
Pompano Beach FL 33069
United States
+18779585264
Ceram-X is a surface sealing treatment designed to provide maximum protection to tile, porcelain, terrazzo, stone, grout, and stained concrete, against fading, microbial growth, staining, and damage caused by UV exposure. It restores the surfaces to near original color and gloss and brings out the color in stone and grout. Its extreme hydrophobic nature exhibits an increased coefficient of friction on the substrate it is applied to, making the coated surface not slippery when wet. 
Features & Benefits:
Does not change the level of polish/sheen
Easy to work with
Use for interior or exterior applications
Dries quickly
Repels dirt
Fast curing
Stain and heat resistant 
Long-lasting
Highly chemical resistant 
Ceram-X Sealer is recommended for all natural stone surfaces as well as concrete, epoxy, tile, and grout surfaces.Common applications include ceramic tile floors, porcelain floors, Mexican tile floors, terrazzo, natural stone floors, and stained concrete floors. Ceram-X is the ultimate ready-to-use barrier shield for outdoor patios, driveways, garages, kitchen floors, backsplashes, bathroom floors and showers, large warehouse facilities, schools, interior and exterior surfaces within luxury hotels, restaurants, and residential homes.
Product Yield:
The yield of product varies with substrate condition and application method. The yield can be as high as 1,000 sq. ft. per gallon on non-porous surfaces and as low as 400 sq. ft. per gallon on porous surfaces. Actual field conditions will dictate product yield.

HANDLEABILITY, MIXING AND APPLICATION:
Pot Life: When all materials mixed, 6 days.
Film Thickness: 1-1.5 mils wet.
Curing Conditions: @ 73°F (23°C) and 50% R.H. Dry Time: Touch: 2 hours at 70ºF, 50% RH, Full Cure: 7 days.

SYSTEM PERFORMANCE (Typical Data):
VOC Content: 3.52 lbs./gal, 428 g/liter (Components A, B & C mixed).
Abrasion Resistance: 364 kg load 1000 cycles (ASTM C501), 1500 revolutions, class 3 rating (ASTM C1027).
Salt Spray: 4000 hours (face corrosion, face blistering) NONE. (ASTM B117).
Resistance to Microbial Fungi: Rating 0 (ASTM G2109).
Resistance to Staining: Class A (ANSIA137.1-2008) (ASTM C1378).
Coefficient of Friction: Dry: 0.79, Wet: 0.79 (ASTM C1028).
SHOP CONTRACTOR DEALS
SAVE ON MACHINES, CONCRETE & EPOXY FLOOR COATINGS!
Xtreme Polishing Systems offers a wide range of materials for surface preparation, concrete floor grinding and polishing machines, decorative concrete, and epoxy resin supplies for all industrial, commercial and residential flooring needs. We provide a full product line of professional concrete and epoxy supplies, flooring equipment, and building materials for projects big and small.