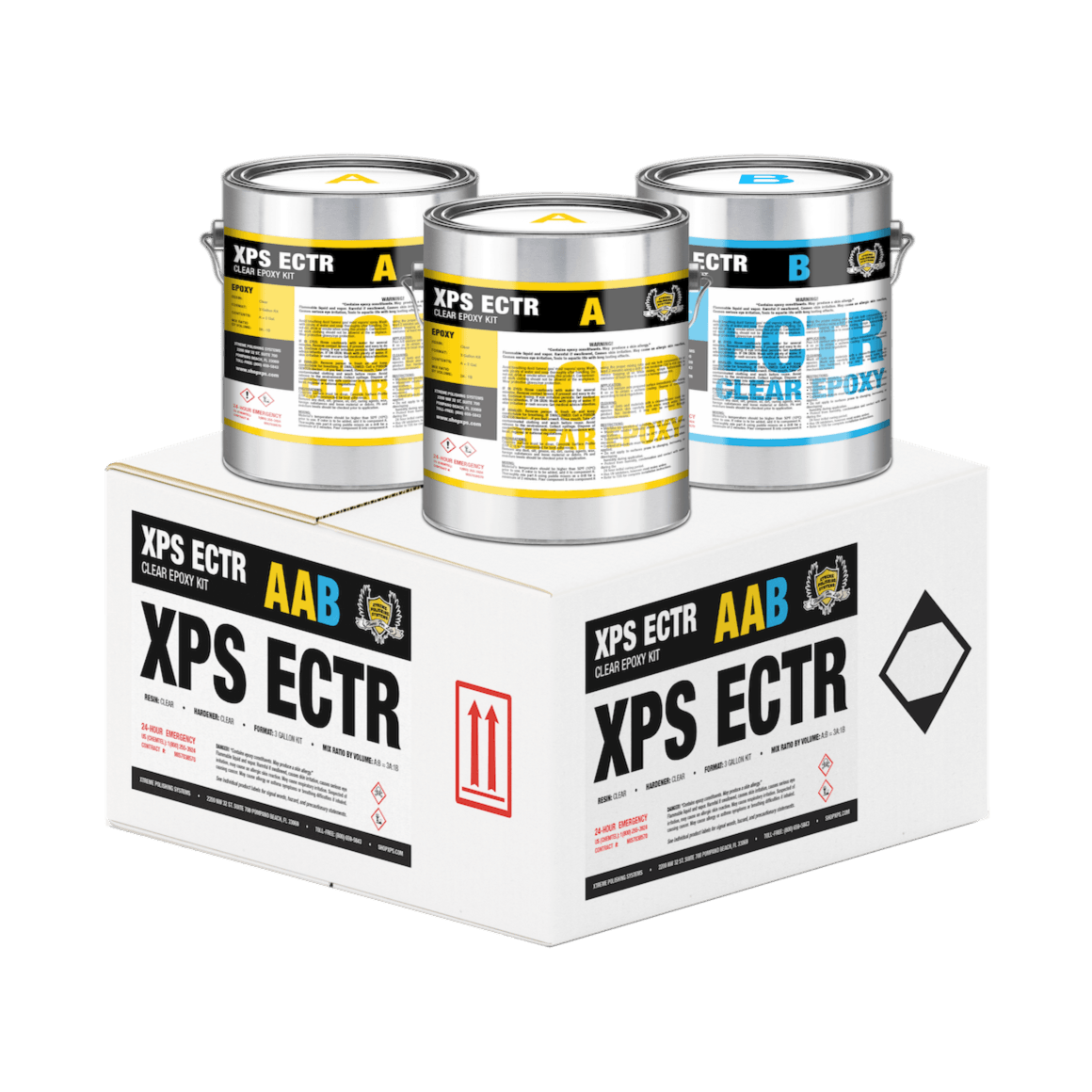 Clear Epoxy Floor Coating - XPS ECTR 3 Gal. Kit
Pickup available at Warehouse
Usually ready in 24 hours
Clear Epoxy Floor Coating - XPS ECTR 3 Gal. Kit
Warehouse
Pickup available, usually ready in 24 hours
2200 NW 32nd Street
700
Pompano Beach FL 33069
United States
+18779585264
Epoxy Flooring Kit
XPS ECTR epoxy produces seamless, high-end finishes that are often mistaken for one-of-a-kind unique marble. Decorative epoxy resinous flooring is cost-effective, easy to install, and designed to go right over your existing interior concrete floors. Xtreme's industrial epoxy floor coatings are precisely what is used by our commercial customers on the most demanding floors. It is a high-performance 100% solids epoxy made for high wear resistance. This product will on a properly prepared floor bond to concrete better than concrete bonds to itself. This industrial flooring kit will both patch and coat in a self-leveling one-coat application 5x thicker than a standard epoxy coating.
Coverage Rates
System

Sqft. Per Gal

Sqft. Per Kit

Flake Floor Base Coat
1 Coat @ 150 Sqft/Gal
450 Sqft/Kit
Solid Color Floor
2 Coats @ 100 Sqft/Gal
300Sqft/Kit
Metallic Floor
1 Coat (Base) @ 100 Sqft/Gal
1 Coat (Decorative) @ 30-40 Sqft/Gal
300 Sqft/Kit
90-120 Sqft/Kit
Clear Coat
1 Coat @ 100-200 Sqft/Gal
300-600 Sqft/Kit
Features and Benefits
100% Solids, Self-Leveling, and VOC Compliant
Non-toxic, environmentally friendly, and resistant to harsh chemicals
Several layers can be applied over itself
Excellent bonding properties
Produces a dense surface that is resistant to bacteria and moisture and easy to clean
It can be used indoors without producing harmful odors
Applications

Xtreme's industrial epoxy flooring kit adds a protective decorative finish to coated concrete surfaces. Specially formulated, two-component, epoxy floor coating provides resistance to wear, impacts, abrasion, chemicals, stains, and heavy foot and vehicle traffic to help ensure that the layer retains its showroom-professional finish over time. Firmly adheres to concrete surfaces to provide excellent durability. Once our Epoxy Resinous Floor Coating System has been applied to a surface and properly cures, the hardening and self-leveling agents produce an extraordinarily resistant and seamless floor surface. Our epoxy floor coating system helps preserve your concrete surfaces and is suitable in residential and commercial settings.
*Color additives, powders, glitters, metallic pigments, topcoats, and application tools are sold separately.
Format: 3 Gallon Kit
Contents: A = 2 Gallons (Resin) : B = 1 Gallon (Hardener)
Solids: 100%
Resin: Clear
Finish: Gloss
Shelf Life: 12 months
Working Time (Pot Life): Once you add Part A to Part B, you have a 30-minute window before the product begins to kick
Drying Time: 8-10 hours

SUITABILITY SAMPLE: Due to the condition of specific sites, always prepare an adequate number of test areas. Onsite sample approval is especially critical in substantial, heavy traffic situations or custom gloss control and coloration.

ITEMS SOLD SEPARATELY:
Color Additives: Flakes/Chip, Quartz Sand, Glitters, Liquid and Powder Color Pigments (Metallic and Solid Colors)
Applicator Tools: Floor Squeegees, Paint Rollers, Hand Mixers, Epoxy Shoes, Measuring Buckets, Personal Protection Equipment (PPE), Cove Base Trowels, Chip Brushes, etc.
SHOP CONTRACTOR DEALS
SAVE ON MACHINES, CONCRETE & EPOXY FLOOR COATINGS!
Xtreme Polishing Systems offers a wide range of materials for surface preparation, concrete floor grinding and polishing machines, decorative concrete, and epoxy resin supplies for all industrial, commercial and residential flooring needs. We provide a full product line of professional concrete and epoxy supplies, flooring equipment, and building materials for projects big and small.