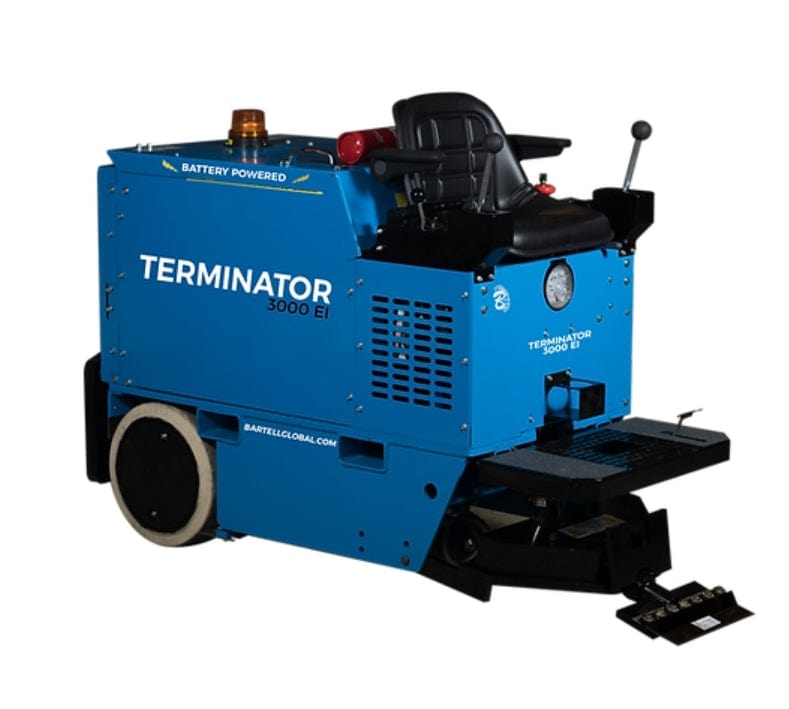 Innovatech T3000 Floor Scraper
26-inch Electric Floor Removal Machine
The Terminator T3000 (Electric) is a compact ride-on floor removal machine that is highly maneuverable and outperforms other battery options on the market. The added benefits of zero emissions and quiet operation make the T3000 EI the perfect choice for contractors working in enclosed areas. The Terminator will deliver approximately 6 - 7 hours of flooring removal work between charges, which is plenty of battery power to get through an eight-hour shift. An optional extra battery pack will allow the T3000 EI to run almost continuously, with only minutes of downtime required to swap out the batteries.
 Features & Benefits
Redesigned frame
Sleek, low-profile
Extremely high removal rates
Up to 80-90% of coverings were removed on the first pass
Fits through any standard doorway or elevator
Zero emissions
Limited maintenance
Zero memory batteries
Forklift channels for quick and easy battery maintenance
Working Width: 26 inches
Battery: 48VDC 415 AH
Length: 66 inches
Height: 47 inches
Weight: 2763 lbs
Production Rates
Carpet: Up to 3,500 sq/hr
VCT/VAT: Up to 3,500 sq/hr
Sheet Vinyl: Up to 3,500 sq/hr
Glue Down Hardwood: Up to 2,000 sq/hr
Elastomeric Coatings: Up to 2,400 sq/hr
Ceramic Tile: Up to 1,900 sq/hr
SHOP CONTRACTOR DEALS
SAVE ON MACHINES, CONCRETE & EPOXY FLOOR COATINGS!
Xtreme Polishing Systems offers a wide range of materials for surface preparation, concrete floor grinding and polishing machines, decorative concrete, and epoxy resin supplies for all industrial, commercial and residential flooring needs. We provide a full product line of professional concrete and epoxy supplies, flooring equipment, and building materials for projects big and small.